plucking instruments
Written by Yang Jing
Saturday, 10 January 2009 20:23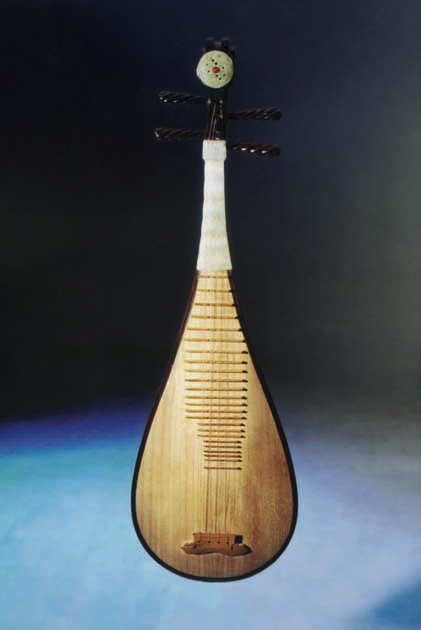 The pipa is a plucking instrument for which music had been written already in ancient times. The earliest evidence of pipa music comes from a manuscript from the Dunhuang caves in west China, written in the Tang Dynasty (618- 907) for pipa solo. Its pear-shaped body is carved from one piece of hardwood and covered with a flat soundboard. The four steel strings (at old time was silk or guts) are tuned A-d-e-a; the tone range spans from A to e3. It is held on the lap vertically, the fingers of the left hand press the strings onto one or more of the 30 frets. The fingers of the right hand pluck the strings with the aid of plastic plectrums which are shaped like a fingernail and taped onto the five fingers. Their movements basically are from inside towards outside. They produce the sounds together with the very rich techniques of the left hand; it could produce a wide range of varied sounds. It is one of the most representative instruments of Chinese music.
Last Updated on Saturday, 10 January 2009 22:17
Written by Yang Jing
Saturday, 10 January 2009 22:09
Guqin is a Chinese ancient instrument with 7 strings. The tuning mostly is CDFGACD or CDEGACD.  It has been played since ancient times, and has traditionally been favoured by scholars like Confucius. In 2003 this instrument became a world culture heritage by UNESCO. Instruments, for example the Qin have been used to express that the earth is part of the big universe and the human body is a small universe; through meditation people absorb energy from the universe. Laozi, the founder of Daoism stated "the biggest sound is no sound". To play the guqin is not for show but for self-refinement. Today's guqin uses the original symbolized Chinese characters notation with the five-line notation translation. The instrument keeps the original form. 
Last Updated on Saturday, 10 January 2009 22:18
Written by Yang Jing
Saturday, 10 January 2009 20:38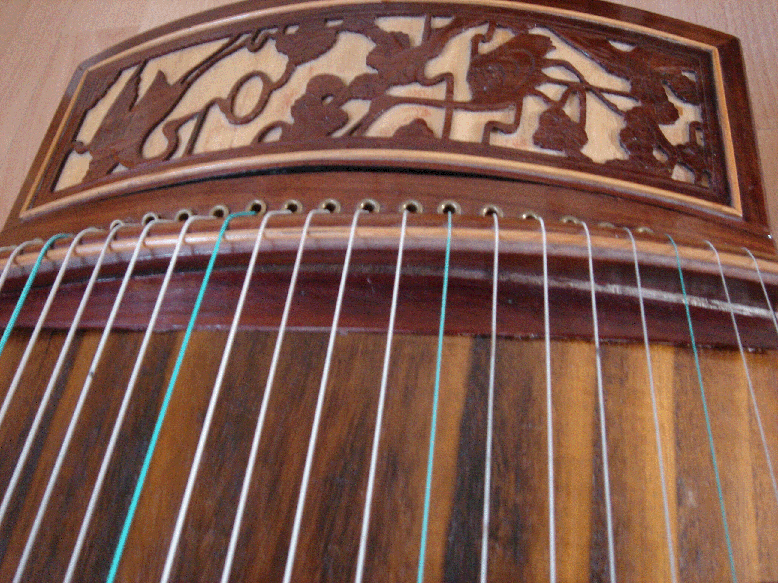 Guzheng: Guzheng is one of the old Chinese instruments with a history spanning over 2,500 years. The early Guzheng had five strings and gradually evolved to twelve in the Han, 13 in the Tang, 15 in the Ming dynasty and 21 strings in the last century. The instrument lies horizontally on a pair of wooden stands; the right hand plucks the strings with the aid of tortoiseshell plectrums taped onto four fingers. The movement of plucking the strings are from outside towards inside, just opposite from the pipa. The left hand pushes the strings to get the half tones and modulating the sound and pitches.
It is tuned basically in pentatonic scales. 
Last Updated on Saturday, 10 January 2009 22:25
Written by Yang Jing
Wednesday, 19 November 2008 01:00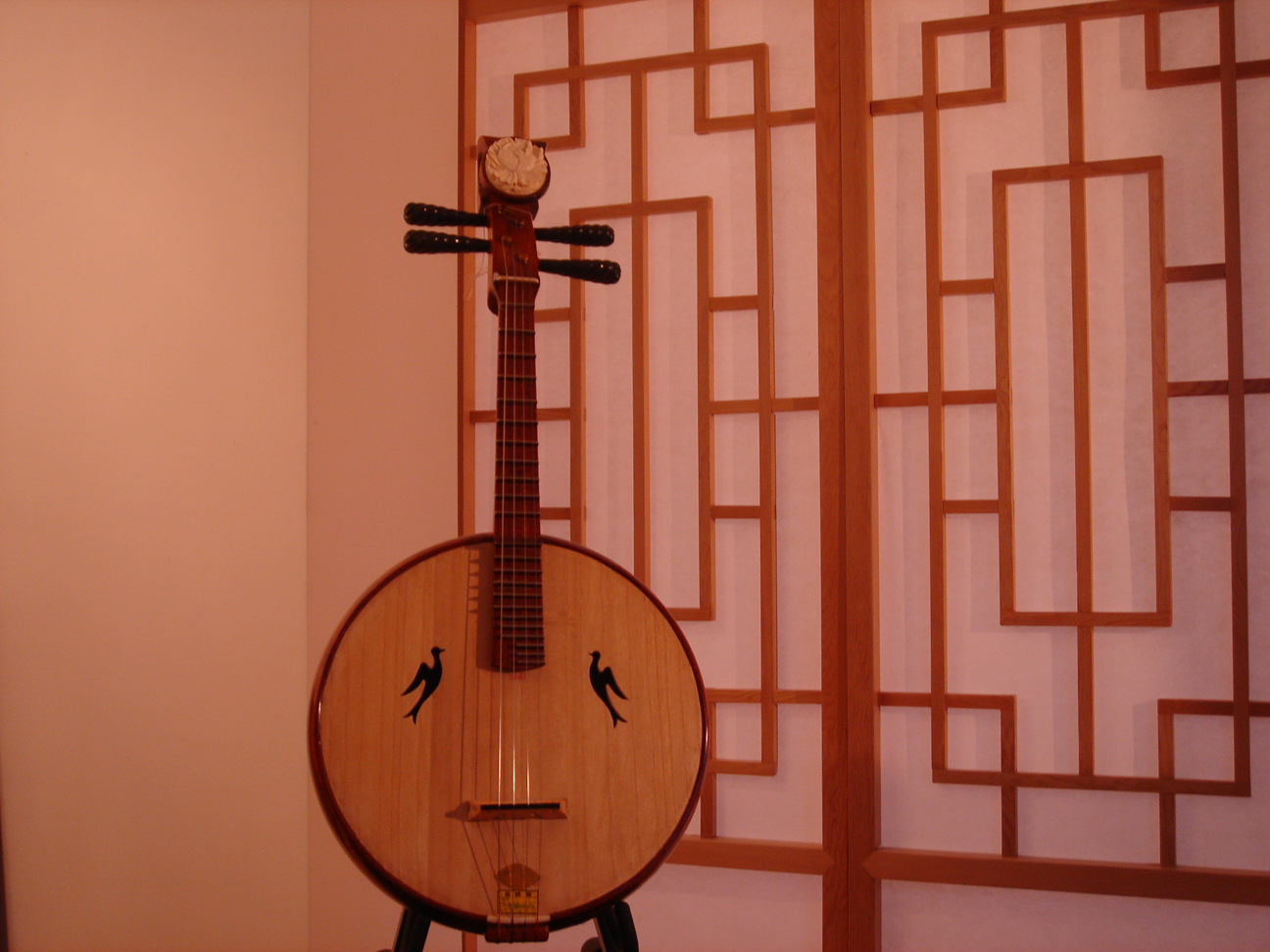 Zhongruan  is a 4-strings plucking instruments played by a plectrum, or by using two acrylic fingernails that are fixed to the fingers with adhesive tape like the pipa's plectrums. The daruan is a bass instrument, and the zhongruan is a 'tenor'.  It is held on the lap vertically, the fingers of the left hand press the strings onto the fret. The fingers of the right hand pluck the strings similar to the pipa but only with two fingers. Both instruments are most common instruments in Chinese orchestras due to its easily blending tone colour.  G-D-A-e
Last Updated on Monday, 12 January 2009 11:32
Written by Yang Jing
Saturday, 10 January 2009 22:14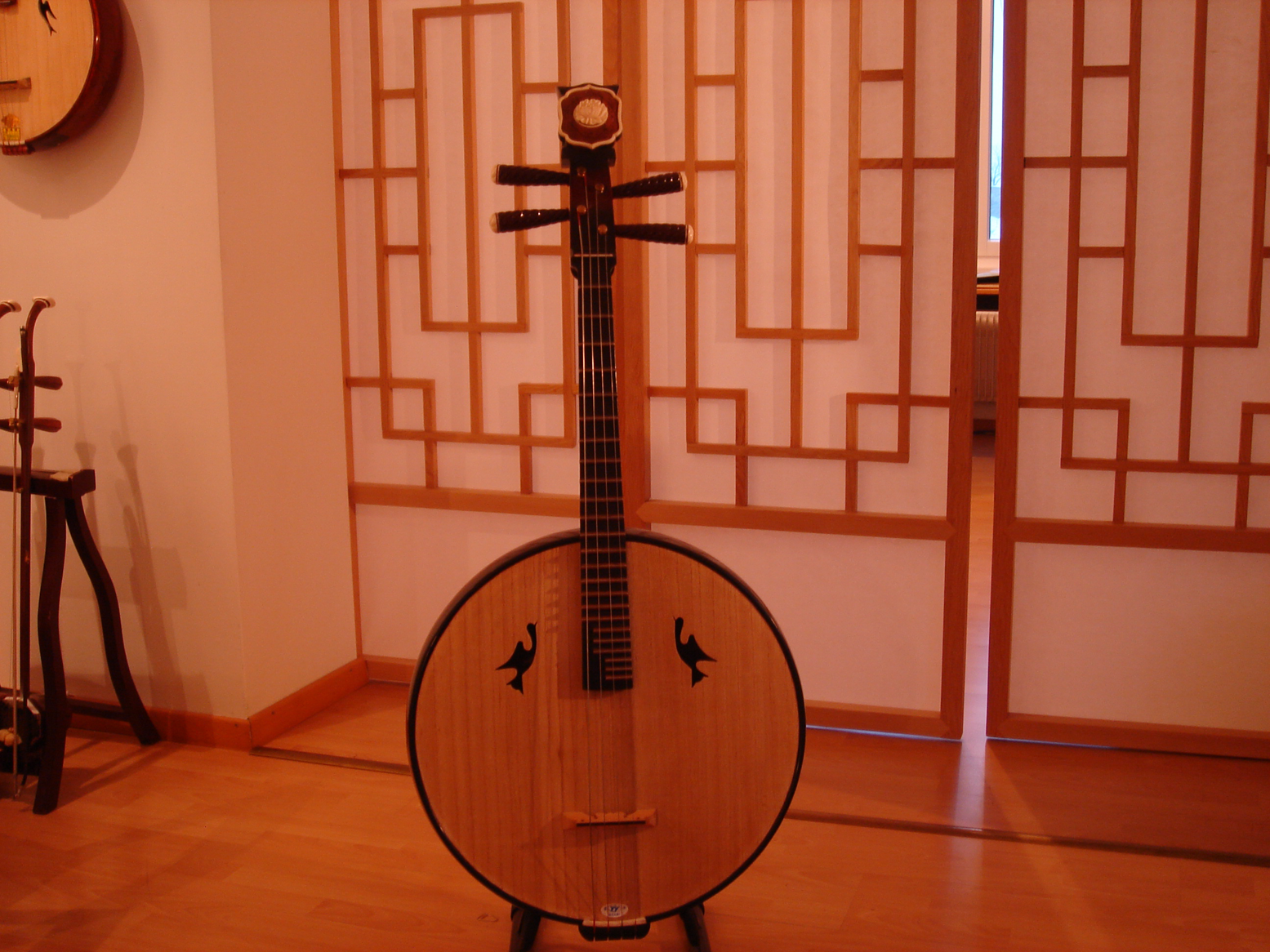 Daruan is a 4-strings plucking instruments played by a plectrum, or by using two acrylic fingernails that are fixed to the fingers with adhesive tape like the pipa's plectrums. The daruan is a bass instrument, and the zhongruan is a 'tenor'.  It is held on the lap vertically, the fingers of the left hand press the strings onto the fret. The fingers of the right hand pluck the strings similar to the pipa but only with two fingers. Both instruments are most common instruments in Chinese orchestras due to its easily blending tone colour. Tuning: C-G-D-A
Last Updated on Monday, 12 January 2009 11:34